The team
Sarah – Director, Planning & Operations
Having completed a degree in South-East Asian Studies and developed a love of travel & adventure along the way, Sarah spent several years living and working in the region before deciding it was time to get a 'proper job' back in the UK. Naturally this meant a job in travel, so her passion could continue and she spent several years planning the land tours for an expedition cruising company. In early 2005 Sarah was one of the founders of The Different Travel Company and ever since has been planning and operating challenges and adventures all over the world. Some of Sarah's highlights from The Different Travel Company trips include canoeing down the Zambezi, seeing 4 of the world's top 20 highest mountains during a trek in Nepal, and seeing the difference made by our very first group out in Sri Lanka just months after the devastating Boxing Day tsunami.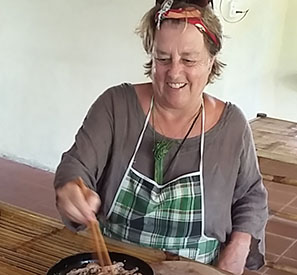 Jill – Business Development
Jill has been with The Different Travel Company since 2006 and in that time she has introduced the company to hundreds of charities and organisations. As part of her role she has travelled all over the world managing our challenges. Highlights include canoeing down the Zambezi and working on community projects in Africa, Cambodia, Nepal, Vietnam and India. One of the biggest impacts of the work has been getting to know the people whose paths she would never have normally crossed, including the street children, tsunami victims and Mother Teresa's Sisters!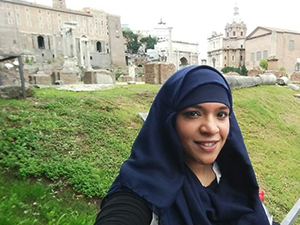 Ruhubia – Marketing and Brand Manager

Ruhubia joined the Different Travel team in March 2020 leaving behind more than a decade as a local journalist. The self-proclaimed adrenaline junkie has a number of travel highlights including being amongst the first group to spend a mid-winter's night at the northernmost tip of Europe within the Arctic circle and jumping off the world's tallest bridge bungee in South Africa. Her most memorable Different Travel trips include meeting her sponsored child while on a school build in Cambodia and attempting to trek to Everest Base Camp after a similar charity project in Nepal. She is a keen archer, an avid gym-goer and loves all things Italian.
Liv – Accounts
Liv has been part of the Different Travel family since 2019. Liv enjoys being active and travelling as much as possible to experience new countries and cultures. Highlights of Liv's travels include gorge walking in Naivasha, Kenya, camping in the Masai Mara, and tobogganing in Norway.
Jeni – Operations Executive
Jeni joined the Different Travel team in July 2022. She studied Modern Languages and spent time living in Germany & Japan.  She then worked for a specialist cruise company planning & leading tours worldwide as well as on some of Europe's waterways.  Jeni has travelled independently in many countries and loves learning about new destinations, cultures and cuisines.  Highlights include getting closer than comfortable with polar bears in the Arctic and watching caretta turtles hatch on the beach in Turkey.
Ally – Customer Service Executive
Ally joined the Different Travel team in August 2022 after spending several years supporting challengers on their fundraising journey for her local Hospice.  Ally is a keen walker and has taken part in several 100km walks, walked a stretch of Hadrian's Wall, taken part in a tandem skydive for a big birthday and a trek in the Sahara. One of Ally's travel highlights was sleeping out under the stars in the desert and watching a light show of shooting stars.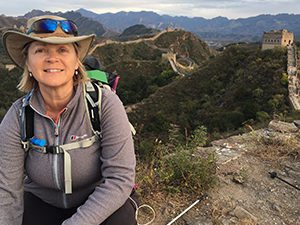 Jude – Tour Manager

Jude has a background in domestic tourism and a passion for travel and has been leading groups since 2013. Particular highlights include star gazing from the dunes in the Sahara, the genuine welcome from local people whilst trekking in remote villages of Vietnam and the hospitality of the Nepalese. Other highlights include getting up close and personal with wild elephants in Zambia, watching the sun set from the Great Wall of China, hearing the school children singing in Kenya and dancing with the women's groups in Mozambique.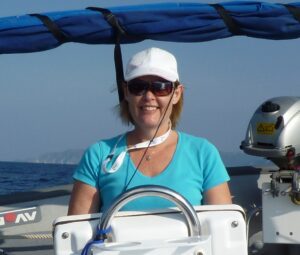 Julie – Tour Manager
Julie has been part of the Different Travel family for around 3 years after a career in events planning for a global safety company. Julie enjoys sailing and is a keen walker both in UK and further afield. One of Julie's highlights is working on community projects in Africa. Some favourite places include Vietnam, Cambodia and the islands off the East coast of Australia.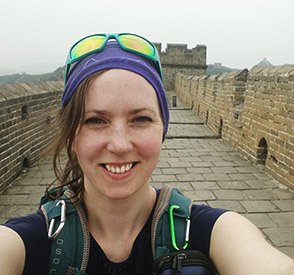 Lexi – Tour Manager
Lexi has visited more than 40 countries across Africa, Asia, Europe, North America and South America. After 13 years in the travel industry, Lexi now works for the NHS in her local A&E department and is training to become a registered medical practitioner. Some of her memorable experiences on Different Travel trips include standing on the summit of Mt Kilimanjaro, stargazing in the Sahara, and experiencing Iceland's extraordinary landscape.
Jane – Tour Manager
Jane has always enjoyed  travel and over the years has visited over 35 countries from Australia to Zambia. Since joining Different Travel she has led  groups to destinations including Jordan, China and the UK.  Particular highlights include reaching Petra after 5 days of trekking and meeting Moon Bears at an animal sanctuary in Vietnam.
When Jane isn't working hard in her day job she enjoys going to the gym, playing tennis and live music. On a quieter note she enjoys trying new craft projects.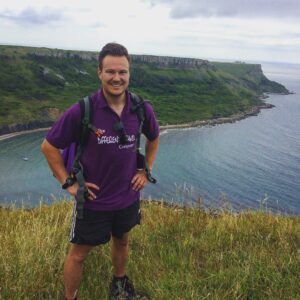 Graham – Tour Manager
Graham has 14 years of experience working in the fitness industry, and now plies his trade in the charity sector working for a children's charity running respite services for young carers and vulnerable children.
He has a great passion for the outdoors, which began whilst working at HMS Collingwood as a Personal Development Coach and included trek leading in the Brecon Beacons and the Lake District. Since joining the Different Travel Team he has led treks in China, Peru, Nepal, Morocco and the UK. His background in fitness means you can rely on him to get you to the end of a long day. One of Graham's favourite memories was watching the sun rise over Machapuchare (Fishtail Mountain) in the Himalaya.
Elaine – Tour Manager
Since travelling by double-decker bus to Kathmandu when she was twenty, Elaine has lived and worked around the world, spending time in China, Hongkong, Singapore, Russia and Spain. Her passion for travel has taken her across the globe; most recent destinations have included Botswana, Burma (just before lockdown) and Jordan. She now works as a freelance tour manager for a number of travel companies, leading tours around the UK and across Europe. Trekking the Great Wall of China with Different Travel in 2017 has been one of her highlights, and she is looking forward to many more such adventures.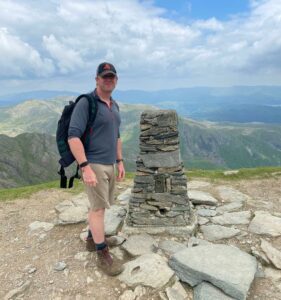 Olly – Tour Manager
Olly has loved travel and adventure since a young age. This combined with a passion for history and a masters degree in Archaeology has fostered trips to far flung places all over the globe. He has a keen interest in hiking, trail running, paddleboarding and open water swimming and is always up for an adventure, both all around the UK and abroad. A trip highlight for him would be sleeping under the stars in the Moroccan Sahara.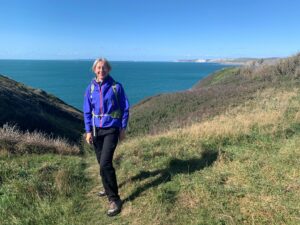 Jo – Tour Manager
Jo is a keen traveller and sports person, and thrives on outdoor adventures and exploring new landscapes and cultures. She has a Masters Degree in Tourism Management and has in more recent years specialised in Health and Safety, including for overseas expeditions. Jo has enjoyed cycle tours all over the world, the most challenging and spectacular was probably around Nepal.  She also loves hiking, sailing, skiing, tennis, squash and flying light aircraft. Some of her favourite trips have included cross-country skiing and ice climbing in Finland, cycling and rafting in China, backpacking in India and hiking in Oman.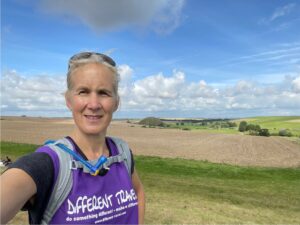 Sarah – Tour Manager
Sarah has always loved travel and adventure and having spent 16 years working full time in the Royal Air Force has stepped back a bit and is now working part time as an RAF Reserve as well as running her own Sports Massage Therapy business.  Sarah's favourite part of the world is Africa and she particularly likes exploring off the beaten path, finding those unspoilt areas.  At home Sarah enjoys running, walking the dog and operating a taxi service for her 3 boys mainly to and from rugby matches!!
Lauren – Tour Manager
Over the last 6 Years Lauren has been working with the UK Military Veterans Charity- Help for Heroes supporting Military, Veterans and their families in the production of wellbeing programmes, training and adapted Yoga sessions for those who have impacted by conflict, health issues and trauma.  Alongside this passion, Lauren has travelled around the world since she was 18 years old, visiting places such as Indonesia, Australia, Mexico and Hawaii and looks forward to accompanying our groups on overseas trips soon.
Shahnaz – Tour Doctor
Shahnaz was born in Iran and lived in Germany for 20 years where she completed her studies in specialist internal medicine. She moved to the UK in 2004 and is now a partner at a medical practice in Havant. In addition to worldwide travel, she is a keen rower and pianist and loves to keep active and spend time with her three children and husband. Shahnaz has accompanied several trips with The Different Travel Company as a trip doctor including treks in India, Nepal, Peru, Romania and Morocco.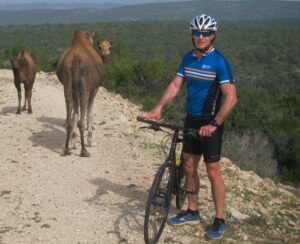 Andy – Tour Manager
Andy has been leading trips for nearly 20 years and has so far clocked up over 80 countries visited. As a result of time spent working in developing countries, Andy founded a charity called Baraka Community Partnerships which now focuses on projects in Zambia and Laos. When he's not on the road; cricket and being given the run around by his young daughter are his priorities.
Biss – Tour Manager
Biss has always loved adventures. Starting with a year working and travelling in Australia aged 21, Biss continued her travels with seasons skiing in the Alps, working in Greece and living in Japan. Having travelled through eastern and southern Africa she found her dream job in the travel industry, specialising in tailor-made photographic safaris in Africa. At home she likes nothing better than hill walking or trekking the coastal paths of the south west, ideally with a dog in tow. She has worked with The Different Travel Company since 2016 on trips including trekking the Sahara, Vietnam and the Great Wall of China, cycling in Myanmar, an educational trip to Uganda and project build trips to Zambia and Kenya.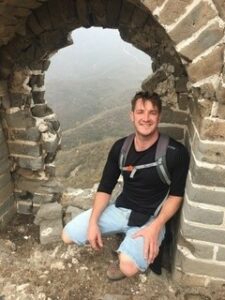 Matt – Tour Manager
Matt worked on Swan Hellenic Cruises for 4 years and since then has been leading Different Travel trips for the last 10 years, including China, Borneo, Vietnam and the Sahara.
He now runs a small footwear business based in Bristol and always looks forward to his trips away with Different Travel, finding the experiences varied and exciting and has made many friends for life.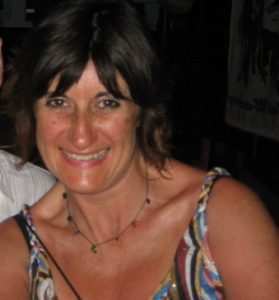 Jan – Tour Manager
Jan has travelled extensively and her highlights including camping on the banks of the Okavango Delta listening to hippos through the night, enjoying the sunrise over Machu Picchu, and trekking the Great Wall of China to name a few. Jan feels privileged to support our teams and the incredible individuals who are passionate about pushing themselves to achieve their goal, and raise thousands of pounds for charity.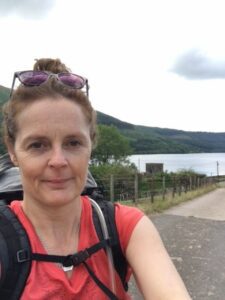 Penny – Tour Manager
Penny is a very experienced Tour Manager and enjoys the great outdoors, particularly very long hikes with her favourite being the Camino de Santiago – a 900km walk through every type of weather imaginable. When not hiking or working you can find Penny dancing tango all over the world!
Jane – Tour Manager
Having travelled to most of the world's continents while working in the ski industry, Jane is a keen adventurer who enjoys meeting people from all walks of life. As a triathlete who has represented Great Britain at the World Championships in Mexico and then Rotterdam, Jane loves the outdoors and keeping active. Since joining the Different Travel team in 2016, Jane has led numerous trips with some favourites including the Indian Himalaya trek and hospice care project trip, the Great Wall of China trek and trekking the jungles of Borneo.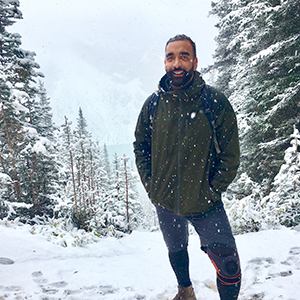 John – Tour Manager / Trip Nurse
John has been leading trips with The Different Travel Company since 2010. He loves the outdoors especially mountains, deserts and jungle. He enjoys meeting new people, team work and supporting his team members to complete their challenge. His highlights from The Different Travel Company adventures include having a night time 'bath' in a rock pool full of ice cold glacier water from the Himalayas, with only a headlamp for illumination, the sound of waterfalls in the background and black mountain bears to keep him company, and the feeling of seeing Uhuru Peak for the first time and realising that he and the group were only meters away from the summit of Mt Kilimanjaro.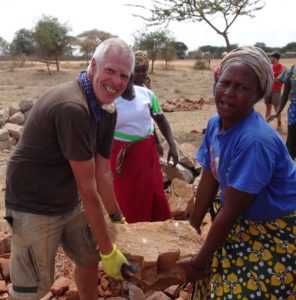 Rob – Build Manager
Rob has been part of the Different Travel Company team since 2015, leading volunteers on charitable build projects in a number African and South East Asian countries. On these projects he enjoys making new friendships whether they be with volunteers or the local people. He particularly likes the team work involved in everyone coming together to work for a common purpose in order to benefit the community.